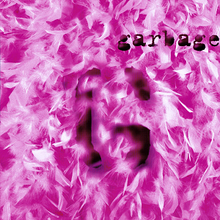 The self titled debut album started out as a studio project. It was recorded between 1994 & 1995 in the bands own studio (Smart Studios, Madison, WI, USA).
In the August of '95 the album was released in North America before a worldwide release followed a couple of months later after the success of the track Vow. Vow had been issued on the Volume compilation series and had been picked up by British radio, among others and in particular was championed by the late John Peel on BBC Radio 1.
The cover of the North American release differs to the rest of the world. The standard release features 12 tracks, 5 of which became singles over the next 2 years.
Supervixen [3:55] / Queer [4:36] / Only Happy When It Rains [3:56] / As Heaven Is Wide [4:44] / Not My Idea [3:41] / A Stroke Of Luck [4:44] / Vow [4:30] / Stupid Girl [4:18] / Dog New Tricks [3:56] / My Lover's Box [3:55] / Fix Me Now [4:43] / Milk [3:53]