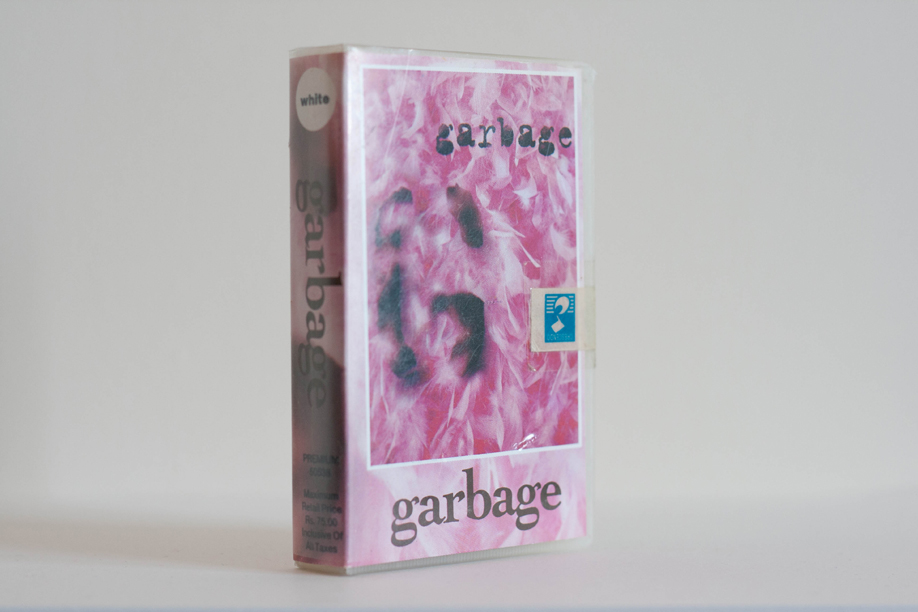 India, TVC9344, Cassette
An extremely rare cassette issued in India. The tape comes inside a video style cassette box which is sealed by some tape.
The cassette had a maximum sale price of 75.00 RS.
The cover has the following written on the reverse along with the track listing and normal copyright information (1995 Mushroom records (UK) Ltd.).
Manufactured & Marketed by BMG CRESCENDO (INDIA) PVT LTD.
Anand Ashram, 2nd Floor, Plot No. 497, 16th Road, Khar (w) Mumbai 400 052
There's also a caution note which reads.
CAUTION: BEFORE PLAYING ENSURE TAPE IS FULLY WOUND AND FREE FROM LOOPING
Garbage [Cassette, TVC 93447]
A1:

Supervixen

[3:56]

A2:

Queer

[4:36]

A3:

Only Happy When It Rains

[3:56]

A4:

As Heaven Is Wide

[4:43]

A5:

Not My Idea

[3:50]

A6:

A Stroke Of Luck

[4:45]

B1:

Vow

[4:30]

B2:

Stupid Girl

[4:18]

B3:

Dog New Tricks

[3:58]

B4:

My Lover's Box

[3:55]

B5:

Fix Me Now

[4:43]

B6:

Milk

[3:54]