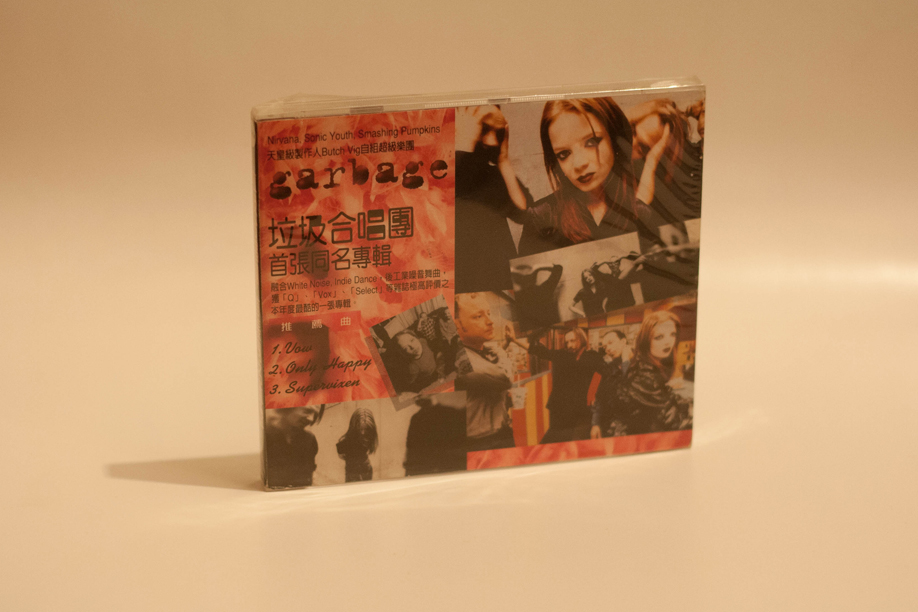 Taiwan, D31450 / TVD 93447 (RMD 53447), CD
Taiwan issued debut album on CD with OBI strip, factory sealed when new.
The OBI strip covers the whole front of the release while the back covers just over a third. The front mentions that Butch Vig has produced albums for Nirvana, Sonic Youth & The Smashing Pumpkins. There's also what looks like review from White Noise, Indie Dance, Q, Vox and Select magazines. Vow, Only Happy and Supervixen are also mentioned.
The reverse of the OBI strip looks like a full biography of all 4 members of the band as well as comparisons to other 90's bands. The spine of the OBI features the code D31450.
My copy is sealed but it looks like the disc is the same as the Oceanian issued debut on White TVD 93447 (RMD 53447).
Garbage [CD, TVD 93447 (RMD 53447)]
Supervixen

[3:56]

Queer

[4:36]

Only Happy When It Rains

[3:56]

As Heaven Is Wide

[4:43]

Not My Idea

[3:50]

A Stroke Of Luck

[4:45]

Vow

[4:30]

Stupid Girl

[4:18]

Dog New Tricks

[3:58]

My Lover's Box

[3:55]

Fix Me Now

[4:43]

Milk

[3:54]