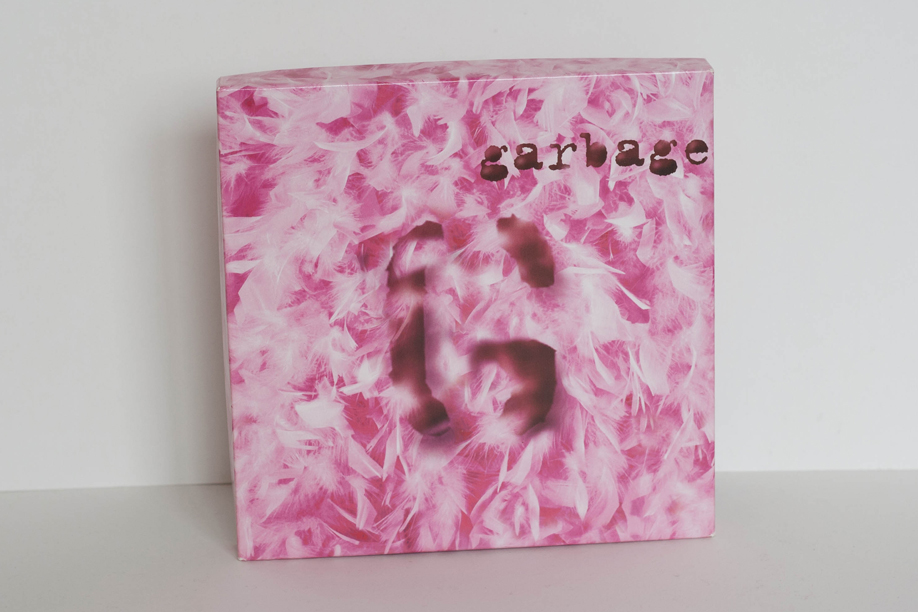 UK, LX31450, 7 inch Box Set
Limited edition 7 inch box set containing six double sided 7 inch singles, the box should have a sticker on the reverse. 10,000 were made and new copies should be shrinkwrapped. Just like the Limited Edition LP the release was sold with a pink Garbage carrier bag in selected retailers.
Each of the 6 singles come in a paper sleeve, most of these are white however some are black. There are two tracks on each vinyl (1 per side) to make up the full 12 tracks contained on the album. Each label on the singles are colour coded, these can then be cross referenced against one of the inserts, just like a box of chocolates.
Garbage [LX31450 - A]
A1:

Supervixen

[3:56]

A2:

Queer

[4:36]
Garbage [LX31450 - B]
B1:

Only Happy When It Rains

[3:56]

B2:

As Heaven Is Wide

[4:43]
Garbage [LX31450 - C]
C1:

Not My Idea

[3:50]

C2:

A Stroke Of Luck

[4:45]
Garbage [LX31450 - D]
D1:

Vow

[4:30]

D2:

Stupid Girl

[4:18]
Garbage [LX31450 - E]
E1:

Dog New Tricks

[3:58]

E2:

My Lover's Box

[3:55]
Garbage [LX31450 - F]
F1:

Fix Me Now

[4:43]

F2:

Milk

[3:54]