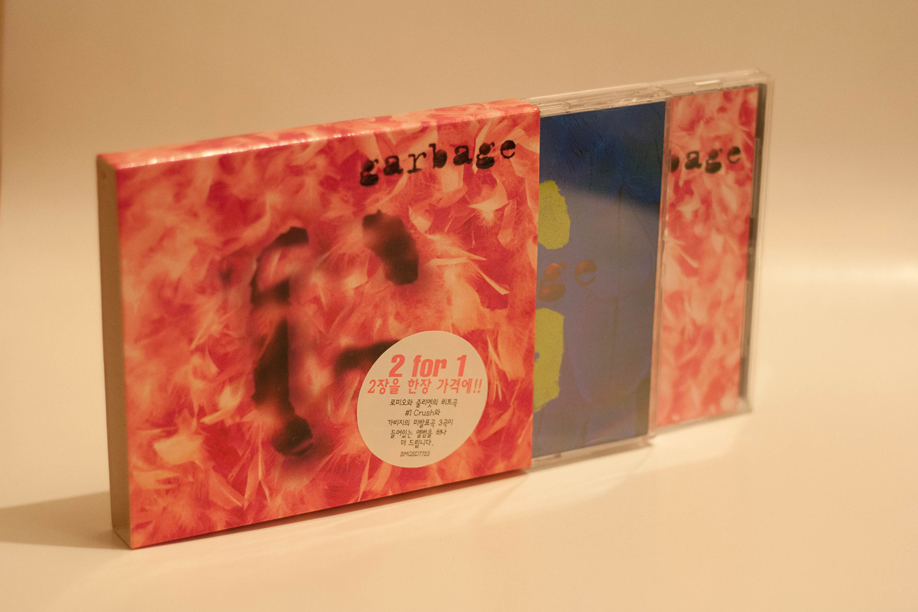 South Korea, BMGSD7723 / 74321 480742, CD (Plus bonus CD)
Limited edition CD with bonus disc both of which are housed within a tight fitting card slipcase. This has a Hype sticker which reads 2 for 1 then something in Korean. The release is shrink wrapped when new.
Garbage, D31450 / BMGSD 7642
The main CD album has a custom sleeve for Korea which includes Garbage written in Korean on one of the spines. The disc is housed within a crystal jewel case. The booklet contains 10 panels rather than the standard 6, this is due to the lyrics being translated into Korean as well as a 1 page bio on Garbage.
The CD is issued by White [D31450] and BMG [BMGSD 7642].
Garbage, BMGSD7723 / 74321 480742
The bonus CD, also called Garbage, comes in a slimline case. The CD was issued by White [74321 480742] and BMG [BMGSD7723].
Garbage [CD, D31450 / BMGSD 7642]
Supervixen

[3:56]

Queer

[4:36]

Only Happy When It Rains

[3:56]

As Heaven Is Wide

[4:43]

Not My Idea

[3:50]

A Stroke Of Luck

[4:45]

Vow

[4:30]

Stupid Girl

[4:18]

Dog New Tricks

[3:58]

My Lover's Box

[3:55]

Fix Me Now

[4:43]

Milk

[3:54]
Additional information
Disc Variant 1

Matrix Runout: FAOF127008 BM0048
Mastering SID: IFPI L891
Mould SID: IFPI 5302
Garbage [CD, BMGSD7723 / 74321 480742]
#1 Crush

[4:51]

Girl Don't Come

[2:32]

Subhuman

[4:37]

Sleep

[2:10]
Additional information
Disc Variant 1

Matrix Runout: BMGSD 7723 * BM 0236
Mastering SID: IFPI L811
Mould SID: N/A