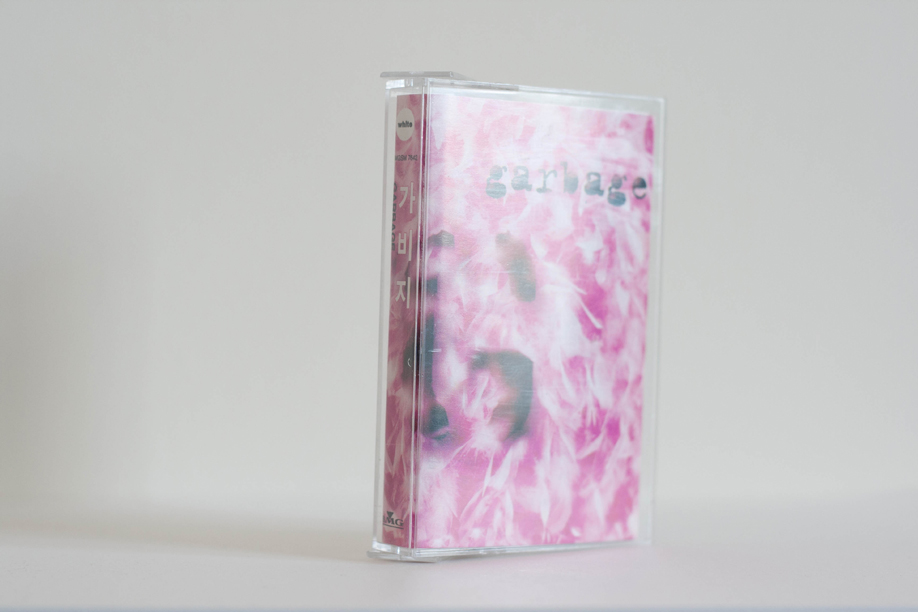 South Korea, BMGSM 7642, Cassette
Standard commercial cassette issued in South Korea, sometime in early 1996. The inlay lists a date of January 30, 1996.
The inlay folds out with absolutely no artwork, apart from one panel which has the blue background with the track listing. The rest is simply black and white, no pictures either. The lyrics are written in the Shirley text, it also contains a biography of the band. The off-centered G logo on the inlay folds round onto the spine of the release.
The cassette is black and BMG branded, there is a purple sticker on this with the track listing. This contains a typo with Mushroom Records International VB instead of BV.
Garbage [Cassette, BMGSM 7642]
A1:

Supervixen

[3:56]

A2:

Queer

[4:36]

A3:

Only Happy When It Rains

[3:56]

A4:

As Heaven Is Wide

[4:43]

A5:

Not My Idea

[3:50]

A6:

A Stroke Of Luck

[4:45]

B1:

Vow

[4:30]

B2:

Stupid Girl

[4:18]

B3:

Dog New Tricks

[3:58]

B4:

My Lover's Box

[3:55]

B5:

Fix Me Now

[4:43]

B6:

Milk

[3:54]