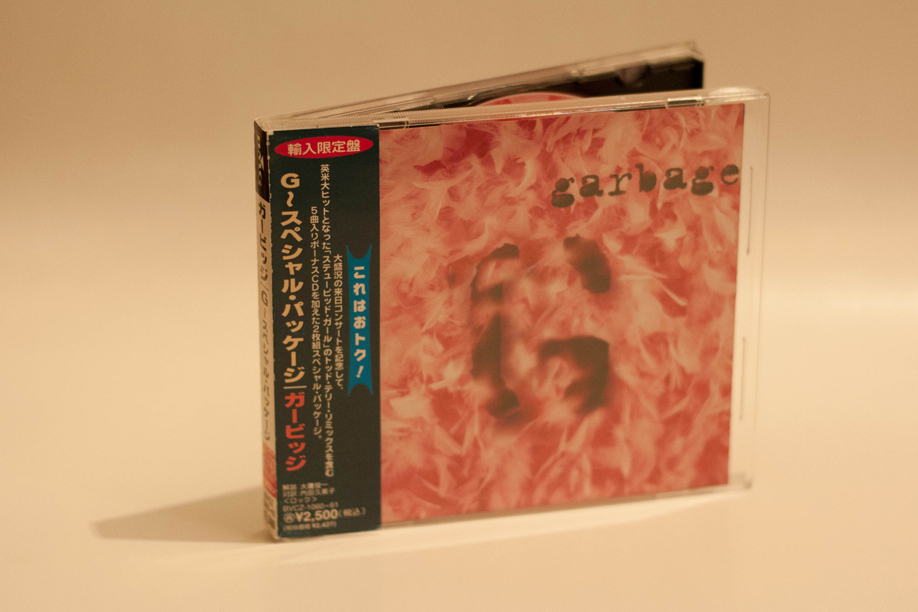 Japan, BVCZ-1060-61 / 74321-44792-2, CD (plus bonus CD)
Limited edition CD issued to help promote Garbage's 1996 tour of Japan.
The release itself is exactly the same as the Australian Tour edition, except it has been repackaged with a wrap around OBI strip. The card inlays are also far more glossy than the Australian version.
There is also a lyric booklet inside the case, this is in English and Japanese. This item first surfaced in January 2005.
The release was factory sealed when new.
Promotional versions
Some copies were issued to the media as promotional copies. These have a white sticker over the barcode with red Japanese text on it. There are at least 2 different versions of this sticker.
Garbage [CD, TVD 93447 (RMD 53447) - CD 1]
Supervixen

[3:56]

Queer

[4:36]

Only Happy When It Rains

[3:56]

As Heaven Is Wide

[4:43]

Not My Idea

[3:50]

A Stroke Of Luck

[4:45]

Vow

[4:30]

Stupid Girl

[4:18]

Dog New Tricks

[3:58]

My Lover's Box

[3:55]

Fix Me Now

[4:43]

Milk

[3:54]
Additional information
Disc Variant 1

Matrix Runout: D93447 SMA 12847R
Mastering SID: IFPI L488
Mould SID: IFPI 7953
Garbage [CD, TVD 93447 (RMD 53447) - CD 2]
Milk (Rabbit In The Moon Mix)

[5:46]

Stupid Girl (Tee's Radio Mix)

[3:47]

Queer (Danny Saber Mix)

[5:39]

Dog New Tricks (The Pal Mix)

[4:03]

Alien Sex Fiend

[4:38]
Additional information
Disc Variant 1

Matrix Runout: D93447-2 SMA 21168
Mastering SID: IFPI L488
Mould SID: