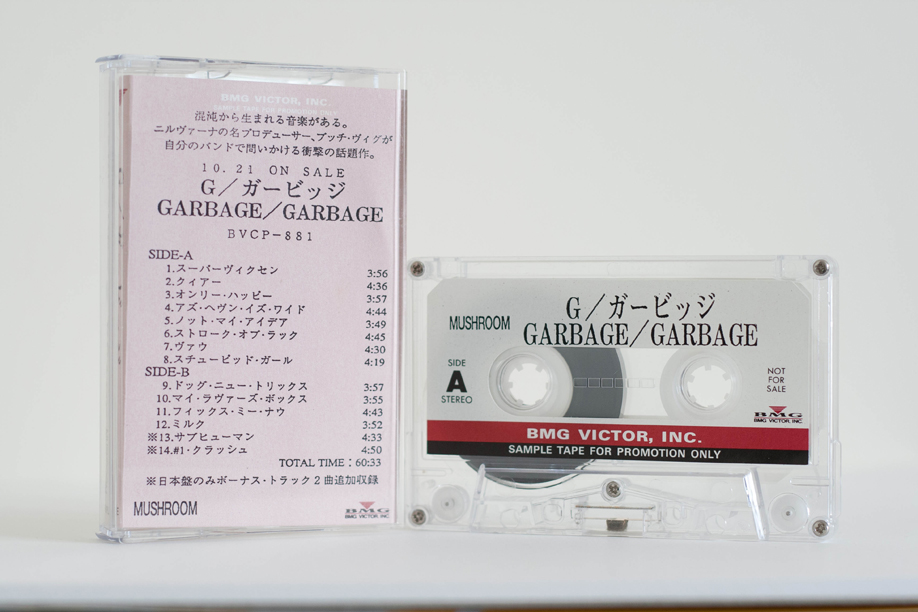 Japan, BVCP-881, Cassette
Extremely rare promotional cassette for Garbage's debut album in Japan. The release includes 2 additional bonus tracks (Subhuman and #1 Crush). The first 8 tracks are featured on side A with the remaining 6 tracks on side B.
The entire track listing has been translated into Japanese on the j card inlay.
The release first surfaced in September 2002, but was issued to promote the bands debut album issued in 1995..
Side A
A1:

Supervixen

[3:56]

A2:

Queer

[4:36]

A3:

Only Happy When It Rains

[3:57]

A4:

As Heaven Is Wide

[4:44]

A5:

Not My Idea

[3:49]

A6:

A Stroke Of Luck

[4:45]

A7:

Vow

[4:30]

A8:

Stupid Girl

[4:19]
Side B
B1:

Dog New Tricks

[3:57]

B2:

My Lover's Box

[3:55]

B3:

Fix Me Now

[4:43]

B4:

Milk

[3:52]

B5:

Subhuman

[4:33]

B6:

#1 Crush

[4:50]