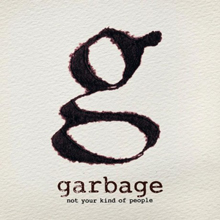 The bands comeback album is their first studio album in 7 years and released worldwide on May 14, 2012.
Not Your Kind Of People is the first Garbage album to have been recorded in full outside of Madison WI, USA after the closure of Smart Studios. The album was recorded in various studios in California, including Hollywood, Silverlake, Glendale and Atwater Village. Additional bonus tracks were recorded at Red Razor Studios in Glendale, also in California.
Two of the tracks are inspired by documentaries. Man On A Wire by the awesome 2008 documentary Man On Wire and Blood For Poppies is inspired by Restrepo, which is about the Afghanistan war.
Automatic Systematic Habit / Big Bright World / Blood For Poppies / Control / Not Your Kind Of People / Felt / I Hate Love / Sugar / Battle In Me / Man On A Wire / Beloved Freak