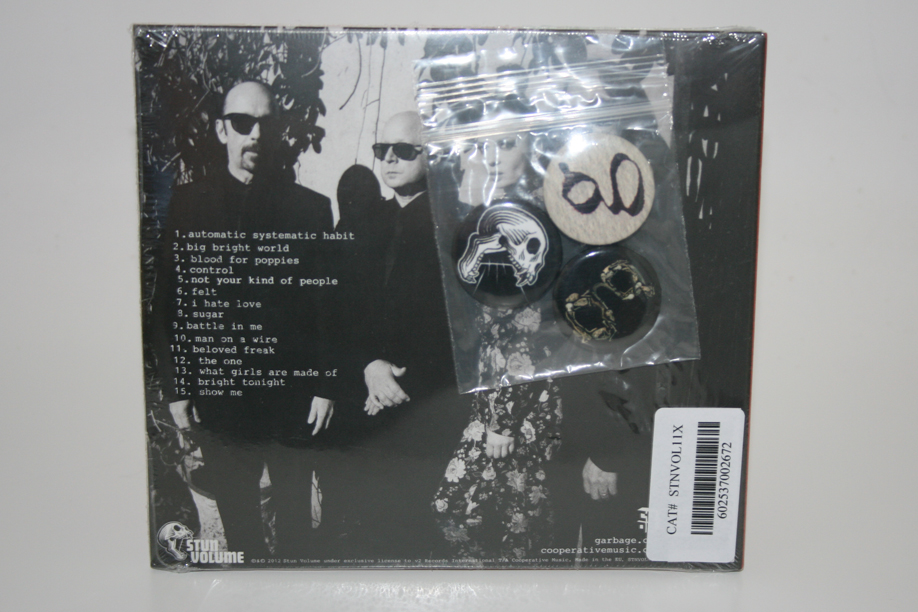 UK, STNVOL011X, CD (play.com exclusive)
Early deluxe edition purchased from Play.com came in a stickered shrink wrapped digipak with 4 additional bonus tracks plus 3 Garbage/STUNVOLUME badges.
The release itself is the same that was issued throughout Europe and the UK (STNVOL011) but has been given a new barcode which includes the index number STNVOL11X. The badges are housed within a resealable plastic bag also contained within the shrink wrap.
This exclusive offer from Play was delayed in shipping as their supplier experienced a delay in delivering the stock to them. There was also a distribution issue with the LP in the UK.
Not Your Kind Of People [CD, STNVOL011X]
Automatic Systematic Habit

[3:18]

Big Bright World

[3:36]

Blood For Poppies

[3:40]

Control

[4:13]

Not Your Kind Of People

[4:59]

Felt

[3:27]

I Hate Love

[3:55]

Sugar

[4:01]

Battle In Me

[4:16]

Man On A Wire

[3:09]

Beloved Freak

[4:33]

The One

[4:45]

What Girls Are Made Of?

[3:49]

Bright Tonight

[4:04]

Show Me

[5:15]