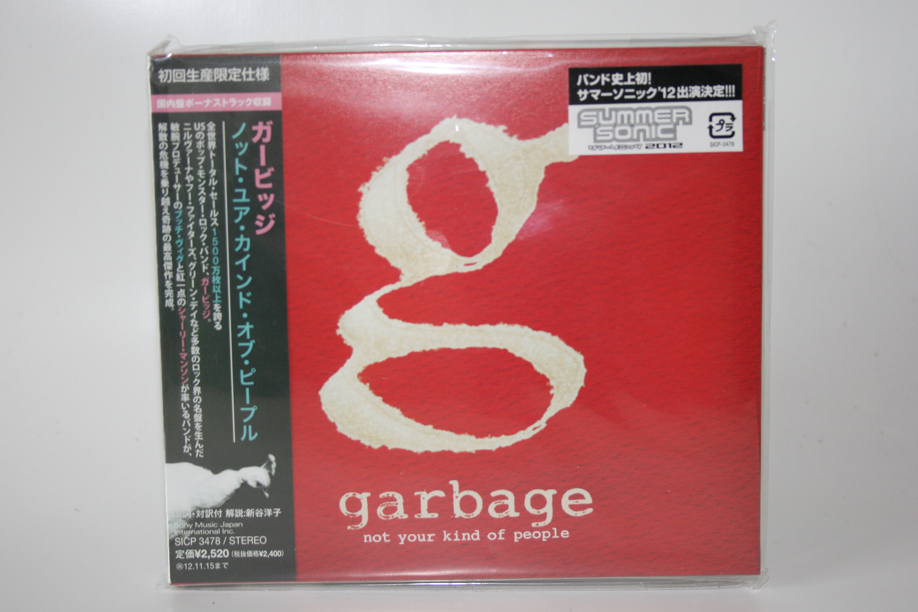 Japan, SICP-3478, CD
Japanese issued deluxe edition with bonus track Love Like Suicide. Comes in a digipak with an OBI strip. The CD was issued in a resealable plastic bag. There is a triple gate-fold sleeve inside the release while the disc inside the sleeve is housed inside a sugar bag. As with most releases from Japan the album contains a Japaneses lyric booklet.
On the reverse of the OBI strip is a QR code. This takes you to the same URL that is also printed along side it which is https://krs.bz/good-music/m/garbage. At time of writing this URL results in an error 404 page.
Early versions had a stickered sleeve advertising the 2012 Summer Sonic festival where the band were performing.
The same version was also issued as a promotional CD, these have a yellow sticker on the reverse of the release.
Not Your Kind Of People [CD. SICP-3478]
Automatic Systematic Habit

[3:18]

Big Bright World

[3:36]

Blood For Poppies

[3:40]

Control

[4:13]

Not Your Kind Of People

[4:59]

Felt

[3:27]

I Hate Love

[3:55]

Sugar

[4:01]

Battle In Me

[4:16]

Man On A Wire

[3:09]

Beloved Freak

[4:33]

The One

[4:45]

What Girls Are Made Of?

[3:49]

Love Like Suicide

[3:51]

Bright Tonight

[4:04]

Show Me

[5:15]