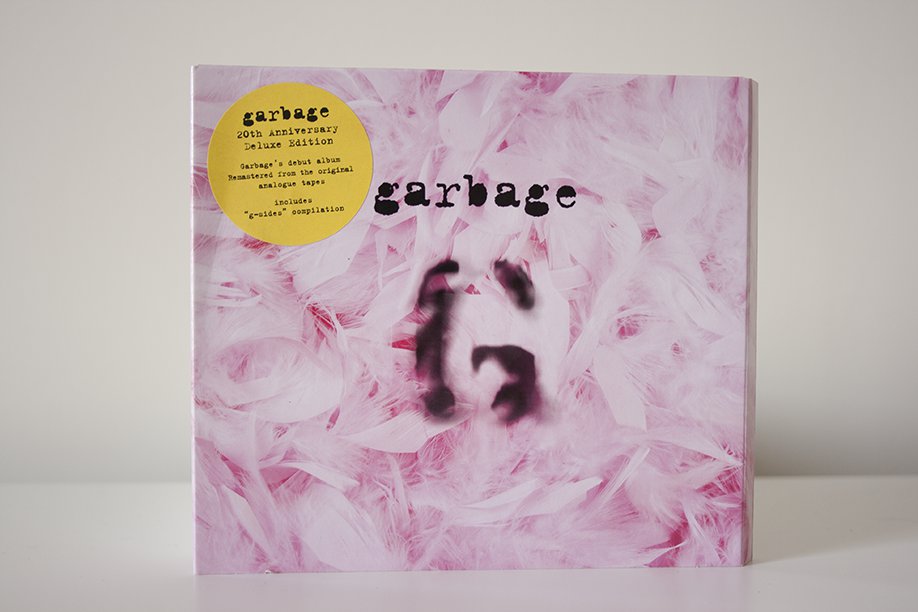 Worldwide, STNVOL020CD, CD
Double CD issued in a stickered shrink wrapped digipak with tracks remastered in 2015. The release was issued in multiple locations around the world including Europe and Oceania.
The case itself is extremely flimsy, something which Garbage fans have not really experienced before. Hopefully this isn't a sign of the future with releases being issued under PIAS. The Almo edition is far stronger and does the artwork the justice it deserves.
Missed opportunity
It was a real shame that the 2nd CD didn't include the demos which appeared on the Super Deluxe Edition. I guess they were excluded to give that release more credit, given that it contained 25 different versions of Milk & Stupid Girl alone.
French Edition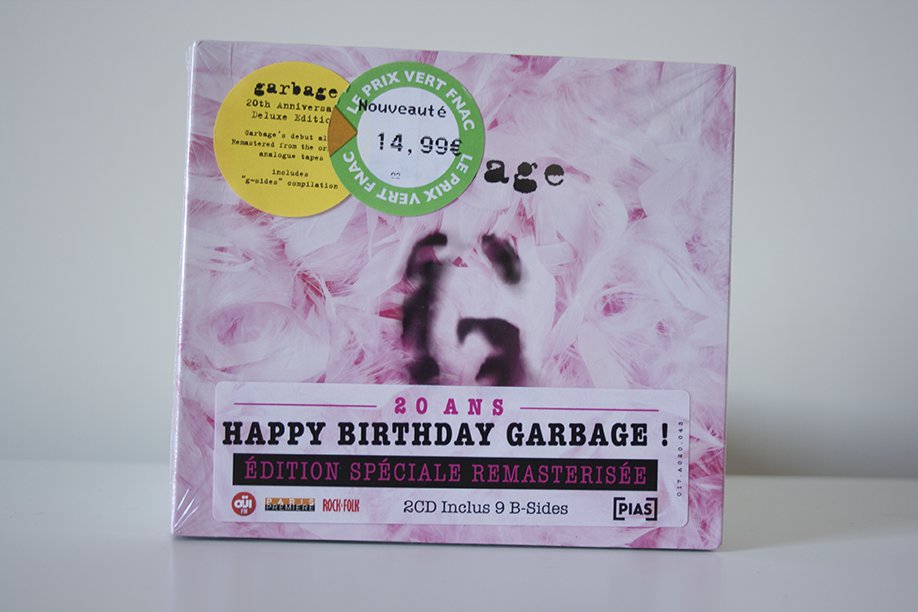 The early editions issued in France have an awesome Happy Birthday hype sticker on them.
Garbage: 20th Anniversary Edition [CD, STNVOL020CD - CD1]
Supervixen (Remastered 2015)

[3:56]

Queer (Remastered 2015)

[4:36]

Only Happy When It Rains (Remastered 2015)

[3:57]

As Heaven Is Wide (Remastered 2015)

[4:53]

Not My Idea (Remastered 2015)

[3:41]

A Stroke Of Luck (Remastered 2015)

[4:44]

Vow (Remastered 2015)

[4:30]

Stupid Girl (Remastered 2015)

[4:19]

Dog New Tricks (Remastered 2015)

[3:57]

My Lover's Box (Remastered 2015)

[3:55]

Fix Me Now (Remastered 2015)

[4:43]

Milk (Remastered 2015)

[3:55]
G-Sides [CD, STNVOL020CD - CD1]
Subhuman (Remastered 2015)

[4:43]

Girl Don't Come (Remastered 2015)

[2:36]

Sleep (Remastered 2015)

[2:20]

Driving Lesson (Remastered 2015)

[3:48]

Trip My Wire (Remastered 2015)

[4:27]

#1 Crush (Nellee Hooper Remix) (Remastered 2015)

[4:51]

Butterfly Collector (Remastered 2015)

[3:42]

Alien Sex Fiend (Remastered 2015)

[4:42]

Kick My Ass (Remastered 2015)

[2:31]