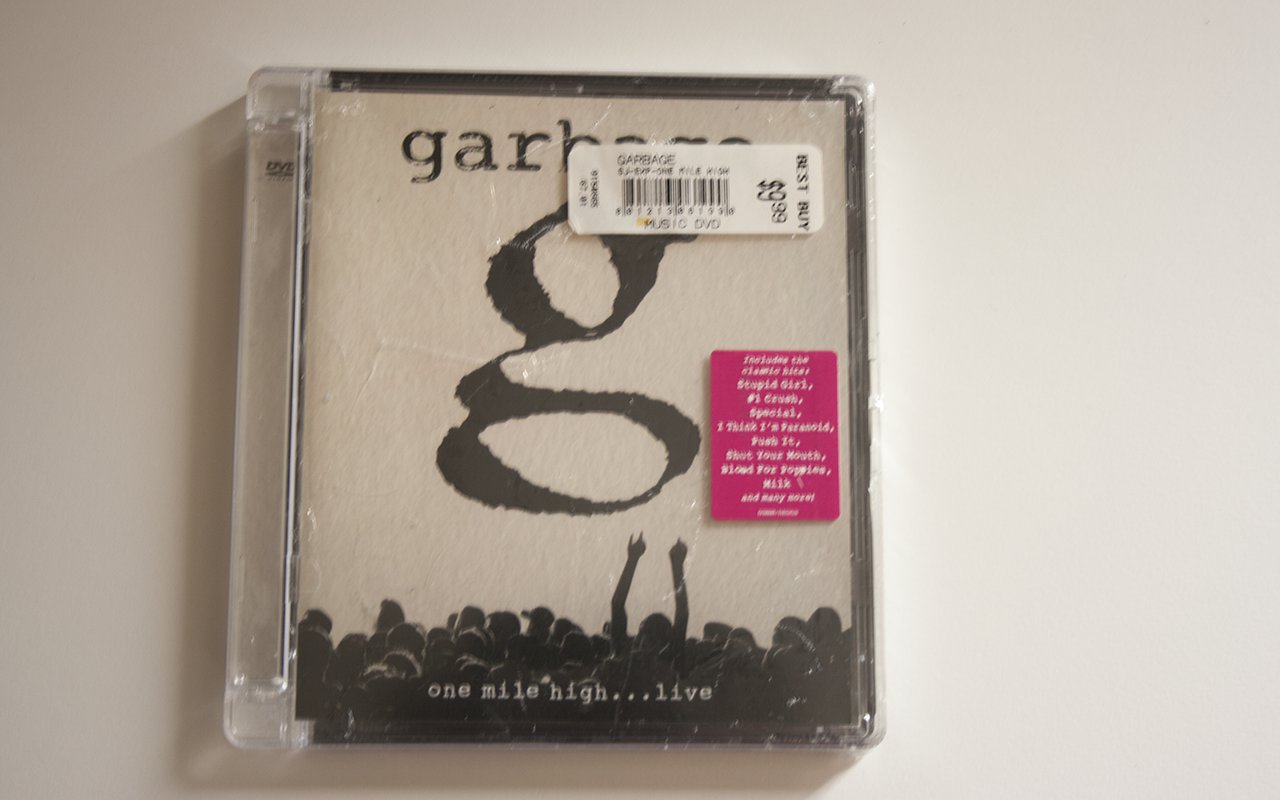 USA, EV306199, DVD (Best Buy Edition)
Repacked DVD exclusive to Best Buy stores in the USA. The release should be shrinkwrapped in a curved crystal case. This should have a hype sticker on the front.
The show was recorded at the The Ogden Theatre, Denver, Colorado on October 6, 2012.
The release also includes the music videos for Blood For Poppies and Big Bright World as well as the soundcheck featuring;
Automatic Systematic Habit
Battle In Me
Big Bright World
Blood For Poppies
Control
The release also includes Time Will Destroy Everything over the end credits.
One Mile High... Live [DVD, V306199]
Automatic Systematic Habit (Live At The Ogden Theatre, Denver, Colorado, 2012 (Video))

I Think I'm Paranoid (Live At The Ogden Theatre, Denver, Colorado, 2012 (Video))

Shut Your Mouth (Live At The Ogden Theatre, Denver, Colorado, 2012 (Video))

Queer (Live At The Ogden Theatre, Denver, Colorado, 2012 (Video))

Stupid Girl (Live At The Ogden Theatre, Denver, Colorado, 2012 (Video))

Hammering In My Head (Live At The Ogden Theatre, Denver, Colorado, 2012 (Video))

Control (Live At The Ogden Theatre, Denver, Colorado, 2012 (Video))

#1 Crush (Live At The Ogden Theatre, Denver, Colorado, 2012 (Video))

Cherry Lips (Go Baby Go!) (Live At The Ogden Theatre, Denver, Colorado, 2012 (Video))

Big Bright World (Live At The Ogden Theatre, Denver, Colorado, 2012 (Video))

Blood For Poppies (Live At The Ogden Theatre, Denver, Colorado, 2012 (Video))

Special (Live At The Ogden Theatre, Denver, Colorado, 2012 (Video))

Milk (Live At The Ogden Theatre, Denver, Colorado, 2012 (Video))

Battle In Me (Live At The Ogden Theatre, Denver, Colorado, 2012 (Video))

Push It (Live At The Ogden Theatre, Denver, Colorado, 2012 (Video))

Only Happy When It Rains (Live At The Ogden Theatre, Denver, Colorado, 2012 (Video))

Supervixen (Live At The Ogden Theatre, Denver, Colorado, 2012 (Video))

The Trick Is To Keep Breathing (Live At The Ogden Theatre, Denver, Colorado, 2012 (Video))

Vow (Live At The Ogden Theatre, Denver, Colorado, 2012 (Video))

Blood For Poppies (Video)

Big Bright World (Video)

Pre-show Warm Up (Video)

Time Will Destroy Everything (End Credits)