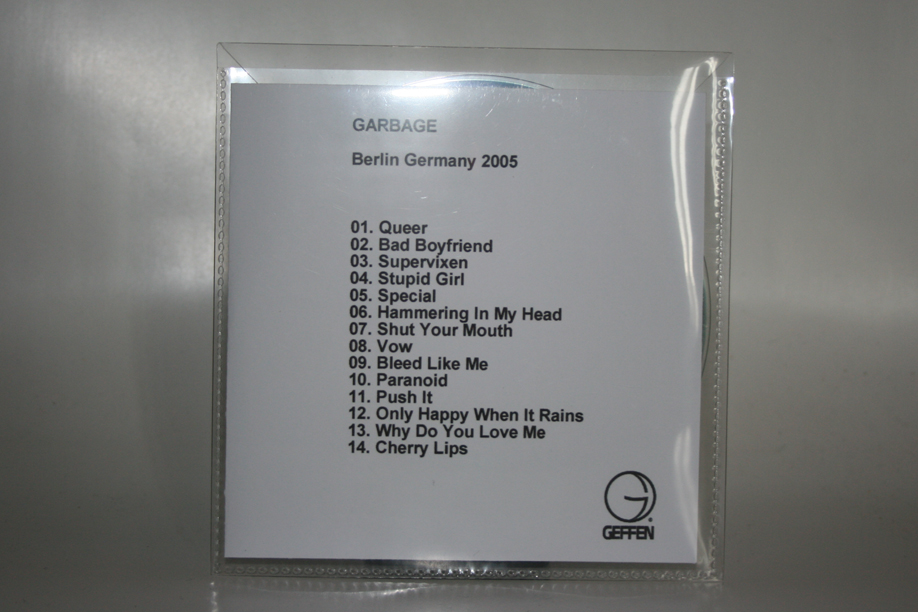 UK, CD-R
Live CD-R issued in a plastic case with custom inlay and disc. The tracks were recorded live at Radio Fritz in Berlin, Germany on April 4, 2005.
Please Note: I am not 100% sure if this item is official or not. I purchased a copy from Ebay after being offered a second chance offer. This came within a few minutes of the auction ending meaning the seller most likely had at least 2 copies. They then started selling even more copies. This is extremely strange considering this item only surfaced in 2013.
The inlay suggests that the release was issued by Geffen Records Ltd.
The disc itself is almost see through so the quality of the CD-R is pretty poor.
Bid with caution and do not pay too higher a price.
Garbage Berlin Germany 2005 [CD-R]
Queer (Live At Radio Fritz, Berlin, 2005)

Bad Boyfriend (Live At Radio Fritz, Berlin, 2005)

Supervixen (Live At Radio Fritz, Berlin, 2005)

Stupid Girl (Live At Radio Fritz, Berlin, 2005)

Special (Live At Radio Fritz, Berlin, 2005)

Hammering in My Head (Live At Radio Fritz, Berlin, 2005)

Shut Your Mouth (Live At Radio Fritz, Berlin, 2005)

Vow (Live At Radio Fritz, Berlin, 2005)

Bleed Like Me (Live At Radio Fritz, Berlin, 2005)

I Think I'm Paranoid (Live At Radio Fritz, Berlin, 2005)

Push It (Live At Radio Fritz, Berlin, 2005)

Only Happy When It Rains (Live At Radio Fritz, Berlin, 2005)

Why Do You Love Me (Live At Radio Fritz, Berlin, 2005)

Cherry Lips (Go Baby Go!) (Live At Radio Fritz, Berlin, 2005)