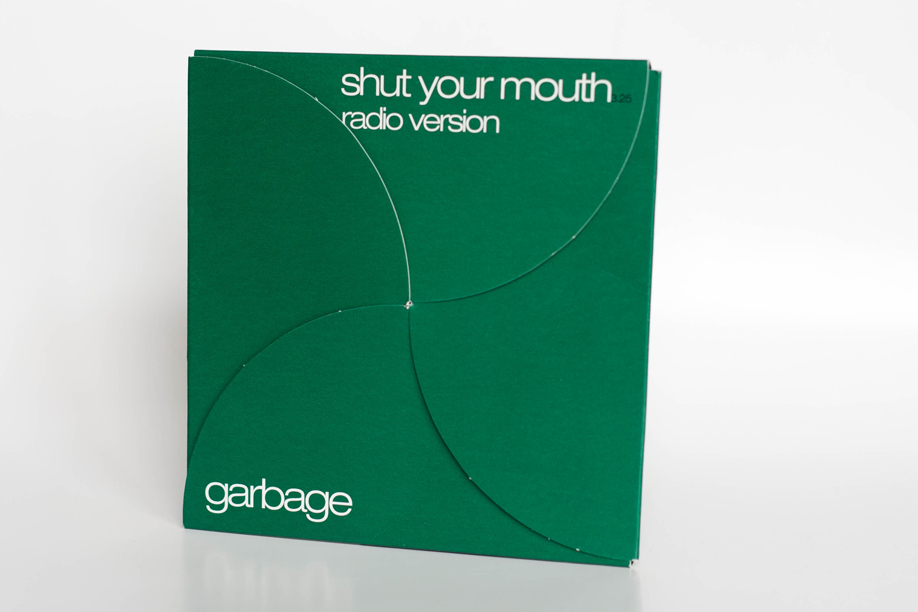 UK, TRASH 46, CD
The sleeve is made from a thick card which folds out to form a flower design. The track is a radio version due to the contents of the lyric's.
The edit has a change in lyrics. The part where Shirley would sing "Shit load… Shit load…. Shit load" (with Echo effect) has been changed to "It load… it load… it load".
European bound promo's were shipped out in the last week of May 2002, a few were also shipped to Australia.
UK promos were planned to be issued the following week in June. However this was halted and instead was issued in the UK mid August 2002. Some copies had an information sticker on the reverse which read the following;
Garbage – Shut Your Mouth
Released: 23rd September
The final single to be taken from the 1.4 million selling album Beautifulgarbage, Shut Your Mouth sees the band in full guitar fuelled form. Garbage have two Electric Ballroom shows on the 28th and 29th August, and a headline performance at this years Kerrang! Awards, before heading back into the studio to start work on a new album.
This sticker may have just appeared in London and the South East of England as the shows were local to that area.
Shut Your Mouth [CD, TRASH 46]
Shut Your Mouth (Radio Version)

[3:25]