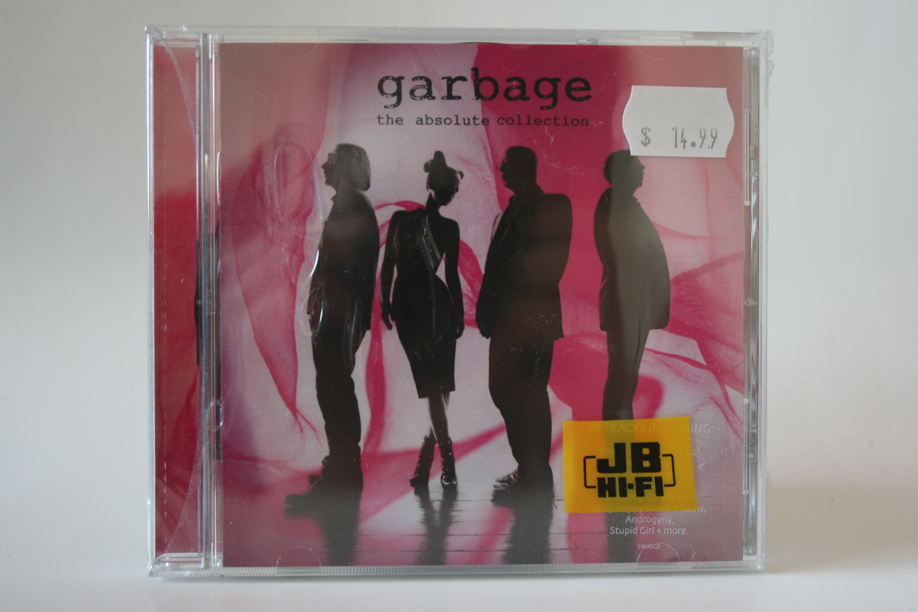 Australia, LIB145CD, CD
The Absolute Collection, a commercial CD issued to coincide with Garbage's 2013 tour in Australia.
The release is pretty much the same as Absolute Garbage except with the addition of the tracks from Not Your Kind Of People and the extra singles from beautifulgarbage which sold well in Australia.
There is a sticker on the release which reads;
"20 TRACKS INCLUDING: Cherry Lips (Go Baby Go!), When i Grow Up, I think I'm Paranoid, Why Do You Love Me, Breaking Up The Girl, Only Happy When It Rains, Androgyny, Stupid Firl + more. LIB145CD"
The shirnk wrap on my copy was added by JB Hi-Fi so I assume that this release comes as standard with no shrink wrapping
Press Release
"The Absolute Collection" is an all-new greatest hits collection by the inimitable band, Garbage. Featuring 20 songs, "The Absolute Collection" is the most comprehensive collection of the band's works released to date. This collection comes in the lead up to their Australian tour in early 2013.
After forming in Madison, WI, Garbage released their self-titled debut album in 1995 and rode a wave of visually arresting, female-fronted alternative rock bands. The album spawned the hit singles "Stupid Girl" and "Only Happy When It Rains" and was certified double platinum in Australia, the United Kingdom, and the United States, and went to #4 on the ARIA charts. The band won the Breakthrough Artist Award at the 1996 MTV Europe Music Awards, and was nominated for the Best New Artist Grammy® Award.
Their second album, "Version 2.0″, was released in 1998, was certified platinum in Australia and peaked at #5. It was nominated for two Grammy Awards including Album of the Year and Best Rock Album.
2001's platinum-selling "Beautiful Garbage" was named one of Rolling Stone Magazine's Top 10 Albums Of The Year and reached #1 on the ARIA charts. In 2005, Garbage released "Bleed Like Me", earning the band gold status and a #4 place on the charts.
After a 7-year hiatus, the band released "Not Your Kind Of People". The album debuted at #8 on the ARIA charts and spawned the singles "Blood For Poppies" and "Big Bright World".
Garbage has sold over 12 million albums worldwide, they have performed in over thirty-five countries and will tour extensively worldwide in support of this new release.
Garbage is Shirley Manson (vocals), Steve Marker (guitars, keyboards), Duke Erikson (guitars, keyboards) and Butch Vig (drums, loops).
The Absolute Collection [CD, LIB145CD]
Cherry Lips (Go Baby Go!)

Stupid Girl

Androgyny

I Think I'm Paranoid

Vow

Bleed Like Me

Supervixen

Blood For Poppies

When I Grow Up

Why Do You Love Me

Big Bright World

Special

Only Happy When It Rains

Shut Your Mouth

Queer

Tell Me Where It Hurts

Breaking Up The Girl

Milk

Push It

#1 Crush