Oceania, CD-R
Promotional CD-R issued in Australia and New Zealand, comes in a plastic envelope and limited to approximately 240 copies.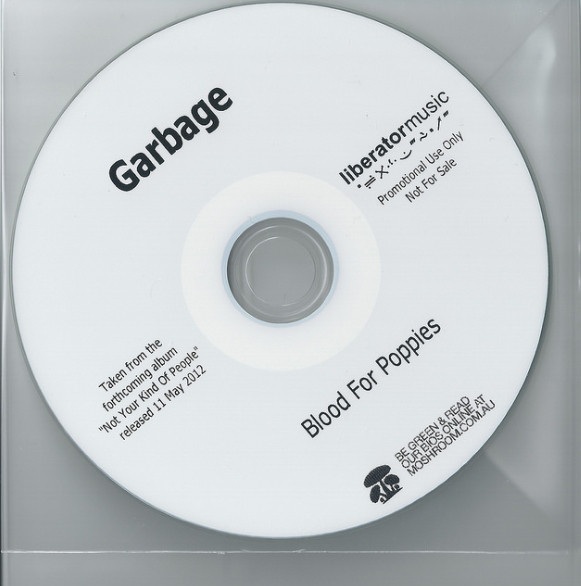 Press Release
"Blood For Poppies" is the highly anticipated comeback single from the multi-platinum-selling band, Garbage. After a seven-year hiatus, the band returns with the first single from their new album, "Not Your Kind Of People". "We have been gone for seven years," states front woman, Shirley Manson. "We now are experiencing what is commonly known as the seven year itch, except instead of wanting to leave each other, we want to return to one another," she continues. "We have made, arguably, the best record of our career."
Upon hearing the distinctive sound of the guitar riff at the start of the track, it is obvious that "Blood For Poppies" is a Garbage song. The band have managed to retain their signature sound all the while keeping it fresh. "The song is meant to feel sort of like an abstract dream," said Shirley Manson. "The inspiration came from a story I had read in The Los Angeles Times about the opium trade and also from watching the documentary 'Restrepo.' It's not literal in any sense whatsoever but it's a song about disorientation and delusion and the human struggle to stay sane in the face of insanity."
After forming in Madison, WI, Garbage released their self-titled debut album in 1995 and rode a wave of visually arresting, female-fronted alternative rock bands. The album spawned the hit singles "Stupid Girl" and "Only Happy When It Rains" and was certified double platinum in Australia, the United Kingdom, and the United States, and went to #4 on the ARIA charts. The band won the Breakthrough Artist Award at the 1996 MTV Europe Music Awards, and was nominated for the Best New Artist Grammy® Award. Their second album, "Version 2.0″, was released in 1998, was certified platinum in Australia and peaked at #5. It was nominated for two Grammy Awards including Album of the Year and Best Rock Album. 2001's platinum-selling "Beautiful Garbage" was named one of Rolling Stone Magazine's Top 10 Albums Of The Year and reached #1 on the ARIA charts. In 2005, Garbage released "Bleed Like Me", earning the band gold status and a #4 place on the charts. In 2007, the band released a retrospective collection called Absolute Garbage.
Garbage has sold over 12 million albums worldwide, they have performed in over thirty-five countries and will tour extensively worldwide in support of this new release.
Garbage is Shirley Manson (vocals), Steve Marker (guitars, keyboards), Duke Erikson (guitars, keyboards) and Butch Vig (drums, loops).
Blood For Poppies [CD-R]
Blood For Poppies