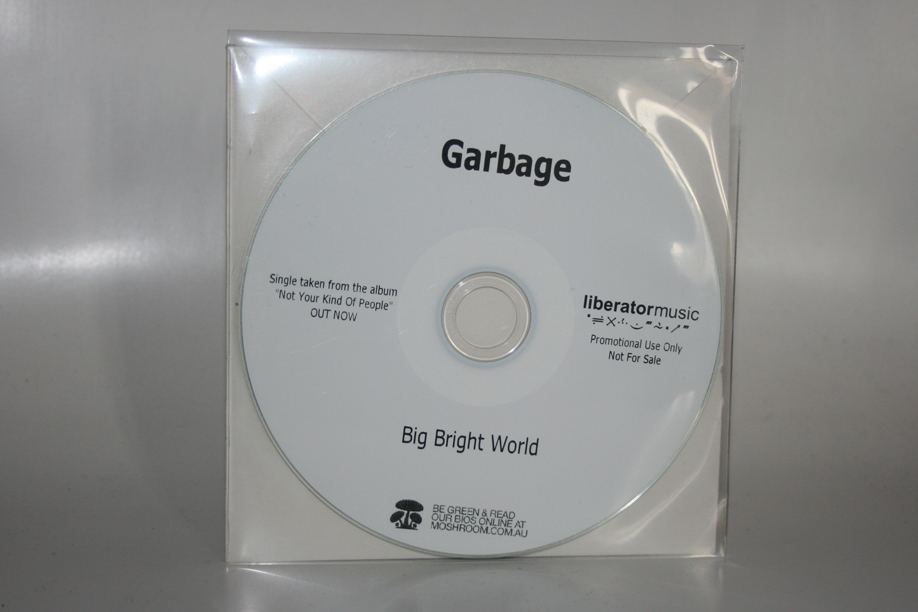 Oceania, CD-R
Promotional CD-R comes in a clear envelope issued by Liberator in both Australia and New Zealand, approximately 240 were produced.
Press Release
Garbage are back with "Big Bright World", the second single from their Top 10-ARIA charting album, "Not Your Kind Of People". The band's highly anticipated return has been heralded by an album which has smashed the charts all over the world, with Australia leading the assault at #8 on debut.
"Big Bright World", which is one of the most upbeat songs on the album, was written by guitarist, Steve Marker after battling a 3-night bout with insomnia. "I was staying in this apartment on Hollywood and Vine, which was probably about the noisiest place in the world that I've ever been. I couldn't sleep at all for like 3 nights in a row and I grabbed an acoustic guitar and just did this little riff with some of the chorus of that song," comments Marker about the song. "He played it for me and I just loved it," continues vocalist, Shirley Manson. "To me, it's probably the most anthemic track on the record," remarks drummer and producer extraordinaire, Butch Vig. "We were really excited as a band to get back together and that song captures the excitement of us playing together for the first time in a long time," says Manson.
After forming in Madison, WI, Garbage released their self-titled debut album in 1995 and rode a wave of visually arresting, female-fronted alternative rock bands. The album spawned the hit singles "Stupid Girl" and "Only Happy When It Rains" and was certified double platinum in Australia, the United Kingdom, and the United States, and went to #4 on the ARIA charts. The band won the Breakthrough Artist Award at the 1996 MTV Europe Music Awards, and was nominated for the Best New Artist Grammy® Award. Their second album, "Version 2.0?, was released in 1998, was certified platinum in Australia and peaked at #5. It was nominated for two Grammy Awards including Album of the Year and Best Rock Album. 2001's platinum-selling "Beautiful Garbage" was named one of Rolling Stone Magazine's Top 10 Albums Of The Year and reached #1 on the ARIA charts. In 2005, Garbage released "Bleed Like Me", earning the band gold status and a #4 place on the charts. In 2007, the band released a retrospective collection called Absolute Garbage. "Not Your Kind Of People", the band's first album in 7 years, was released in Australia to much acclaim on May 11 2012.
Garbage has sold over 12 million albums worldwide, they have performed in over thirty-five countries and will tour extensively worldwide in support of this new release.
Garbage is Shirley Manson (vocals), Steve Marker (guitars, keyboards), Duke Erikson (guitars, keyboards) and Butch Vig (drums, loops).
Big Bright World [CD-R]
Big Bright World

[3:37]