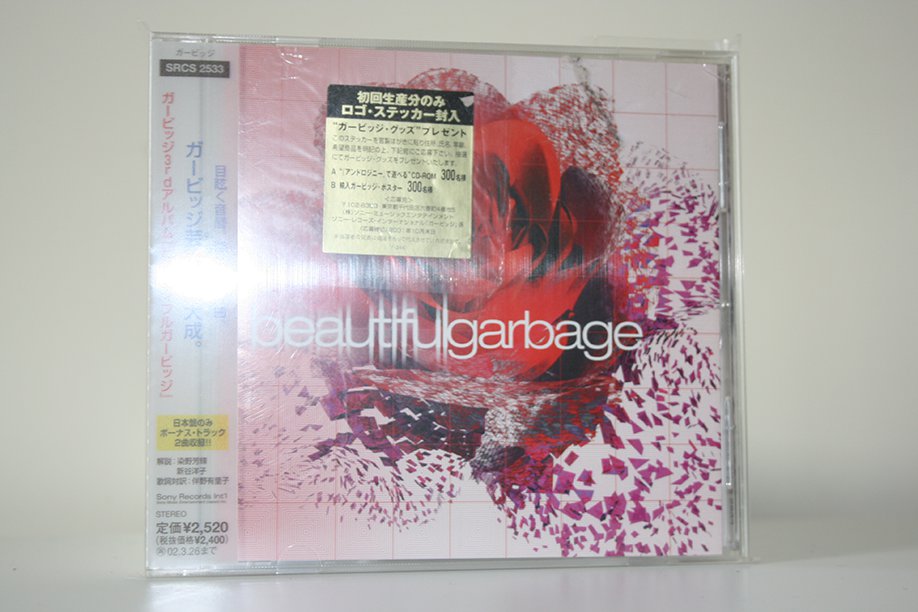 Japan, SRCS 2533, CD
CD comes in shrink wrapped crystal jewel case with OBI strip made from tracing paper.
There are 2 bonus tracks on the CD, these being Begging Bone and The World Is Not Enough.
There should be a beautifulgarbage sticker inside the release.
The first pressing of this release sold out within 3 weeks.
beautifulgarbage [CD, SRCS 2533]
Shut Your Mouth

[3:25]

Androgyny

[3:09]

Can't Cry These Tears

[4:16]

Till The Day I Die

[3:27]

Cup Of Coffee

[4:31]

Silence Is Golden

[3:49]

Cherry Lips (Go Baby Go!)

[3:12]

Breaking Up The Girl

[3:33]

Drive You Home

[3:58]

Parade

[4:06]

Nobody Loves You

[5:07]

Untouchable

[4:02]

So Like A Rose

[6:17]

Begging Bone

[4:50]

The World Is Not Enough

[3:58]