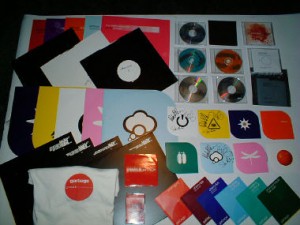 The Trash Items are a set of mainly promotional items which were issued by Mushroom Records (UK) ltd. between 1995 and 2002. Some were issued in Europe and Australia via Mushroom Records international BV.
The Trash Items are some of the hardest to find collectibles out there and range from CDs to T-shirts. While the vast majority of them were issued as promotional releases some were commercially sold in stores such as HMV or via the Garbage mailing list. A Trash Item is defined by the index or catalogue number of the release. It has the following format TRASH XX where XX is a number.
There are currently 44 different Trash Items and they come in a range of different formats including T-shirts, 12-inch vinyl pressings and CDs.
Points of Interest
At any one time there will only ever be less than 50 complete collections because Trash 20 (the Push It t-shirt) is said to be limited to around this number. This could still be less as both Trash 39 and 45 were never fully issues so it is not known how many are out there for these releases.
No matter what anyone tells you Trash 5, 6 and 7 do not exist. If anyone tells you they have these items they are incorrect. I have this fact backed up in writing by Rob Jefferson who use to work at Mushroom Records (UK) limited and name appears on a number of early promotional items.
Trash 09 and 10 are the same item, known as Trash09/10.
Where can I get them?
The best place to get them from is eBay or specialist retailers. They are normally more expensive to get than most other promotional items as retailers who understand the Garbage collecting scene will charge a premium just because it has the word Trash as part of the catalogue number – so make sure you shop around just to be sure you get the best price.
Which are the rarest ones?
Trash 01: Really expensive these days when ever they appear for sale. If they appear on ebay bidding goes through the roof. Having said that I am aware of one sold in 2011 for just £10 in a London record store.
Trash 11: I never had any dificulty getting hold of this but loads of people need it. Limited to 500, only 125 were issued.
Trash 20: Said to be limited to around 50 shirts. There are 2 sizes (small & large), most have been worn.
Trash 32: Sold to subscribers to the UK mailing list for £6.00 (GBP£), now they fetch a high asking price.
Trash 39: Limited to 500 copies, except it was never fully issued, most which have appeared were sent for export, unless you were luck enough to know someone at Mushroom Records (UK) at the time.
Trash 45: Once again this item was never fully issued, the ones that did appear had been sent for export.
Are there any other Trash Items?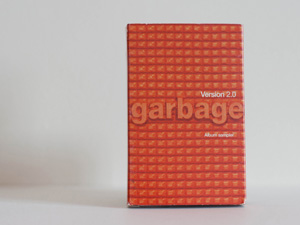 Yes there are, however these are not really considered Trash Items in the same way for a number of reasons.
Trash 1PC: This is a Version 2.0 sample cassette.
Trash 19: There is a plain Trash 19 which comes packaged with a limited edition copy of Version 2.0 from Singapore.
Trash 33: Festival Mushroom Records issued a version of this which features a rather nasty colour photocopy of the Mushroom UK version. The disc also has a custom label. The item itself looks fake but is in fact official.
Test Pressings: There are a number of test pressings for the vinyl which feature Trash numbers. They often have DFI as part of the code. These items are generally even harder to find than the Trash Item it is a pressing for.
CDR's: These started to appear when exported Trash Items started becoming popular. Be very careful when buying these because it doesn't take much to copy one.