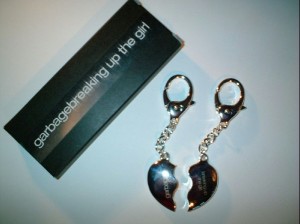 Garbage have issued some truly amazing memorabilia over the years. During the Mushroom records years no expense was spared on producing some really cool promotional items.
Items such as the keyrings produced for Breaking Up The Girl are some of the nicest items you will ever see from a record label to promote one of their artists.
I should mention that the vast majority of this entire section of the the Garbage discography was produced by Dan Griffiths who ran the website Garbage Memorabilia until I took over the running of it when he closed the site in March, 2006. Without his early work this section of the site would not be like it is today.