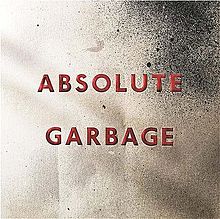 Absolute Garbage is the "Best of" album by Garbage. Issued in 2007 it features 18 of the bands singles and a further 14 remixes on a 2nd bonus CD with some editions.
All the tracks were were remastered with some slight differences from the original singles. The album featured 2 new tracks, these being Tell Me Where It Hurts and a Garbage remix of It's all over but the Crying on the main disc itself. There is also an iTunes only track in the UK and Australia called All The Good In This Life.
Absolute Garbage also saw the release of the bands first official DVD containing the majority of the videos.
Vow [4:32] / Queer [4:37] / Only Happy When It Rains [3:47] / Stupid Girl [4:18] / Milk [3:50] / #1 Crush (Nellee Hopper mix) [4:45] / Push It [4:03] / I Think I'm Paranoid [3:39] / Special [3:47] / When I Grow Up [3:24] / You Look So Fine [5:22] / The World Is Not Enough [3:58] / Cherry Lips (Go Baby Go!) [3:13] / Shut Your Mouth [3:27] / Why Do You Love Me [3:53] / Bleed Like Me [4:01] / Tell Me Where It Hurts [4:10] / It's All Over But The Crying (Garbage remix) [3:49]